Directions: (37.7445, -81.18308)
Exit 42 on I-77. Go south on WV 16 to Fitzpatrick Rd. and follow to Fitzpatrick Park and just before the entrance turn left in front of the water treatment plant. The road will then curve to the right. Just before the RR crossing park on the side of the road. There is a small " parking lot ". Start walking on the RR tracks AWAY from the water treatment plant. Hike approx 1/2 mile and you will pass some wetlands areas then start hearing a waterfall. Once you hear the falls find the trail through the woods on your right. It's very obvious once you get there. Hike it a short distance and you're there! Not that hard at all to find really.
P.S. You may be tempted to think of this place as a nice swimming hole, but it is not recommended as it may be polluted. Anyway, anything just downstream from a treatment plant should be considered suspicious for pollution.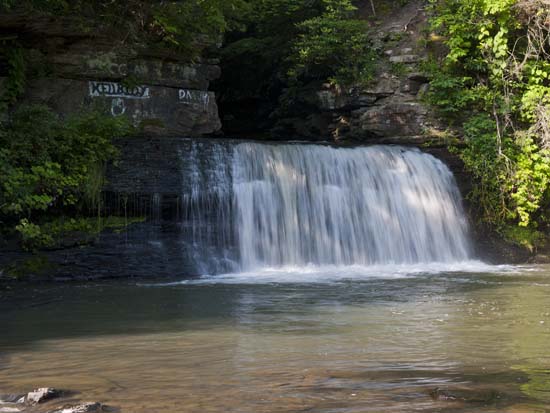 There is also a small falls which is really nothing more than a spillway out at the end of the road around the ball fields at Fitzpatrick Park. Just drive out to the lake and park. You can't miss it.