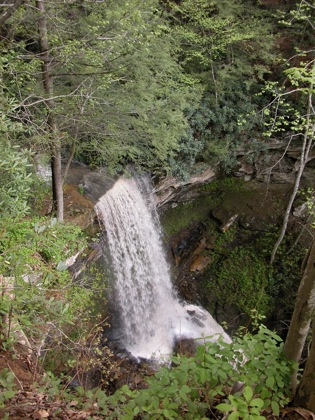 Photo and nformation courtesy of www.gowaterfalling.com (http://www.gowaterfalling.com/waterfalls/indianbranch.shtml)

Indian Branch Falls is a classic plunge 45' falls. Despite its name it is not actually located on Indian Branch, but on an unnamed stream north of Indian Branch. Unfortunately there is only one vantage point from which to view the falls, located to the side but high above the falls. The gorge walls are very shear, and any attempt to get down into the gorge here would be extremely foolhardy.
There are supposedly other drops on this stream, one of which is over 60', as it makes its way down to Bluestone River. Reaching any of these is very difficult.
The falls can be reached by a 1.5 mile hike one way along the County Line Trail starting at the Nature Center in Pipestem Park. It can also be reached from the Canyon Rim Center by means of the River Trail and the County Line Trail. If you are not interested in the hike, the falls can also be reached by car. From Route 20, turn west onto Pine Grouve River Road, which is about 1 mile south of the main entrance to the park. Follow this road for 1.5 miles and turn right onto River Road. Google Maps marks this road as "Bluestone-Pine Grove Road", and some directions indicate it is unnamed, but in May 2009 there was a sign naming it "River Road." Follow this road for a bit over a mile. Right where the road splits, continue straight, not to the left where it fords the stream. The road quickly ends at a gate, which is visible from where the road splits. Park at the gate, and walk a short distance to the falls overlook.