Marr Branch Falls
This is an easy falls to find and hard to get into the creek. It's not the easiest to shoot either. There are two ways to get down into the creek. One is from the road side and the other is to cross the creek above the falls and go down on the other side. There are some trails over there, but I have not been that way, though I did watch my friend go out that way. I took a rope and went down and climbed back out on the road side. It is not a particularly difficult scramble, but you might want a rope, especially with camera gear. It's kind of steep. The creek bed does have a few large bolders to shoot from but it's not completely hospitable.
The first image is easily obtained. This fall is almost at road level and easily seen from the road. It will be apparent how to deal with it. The second is from farther downstream and just above the third shot.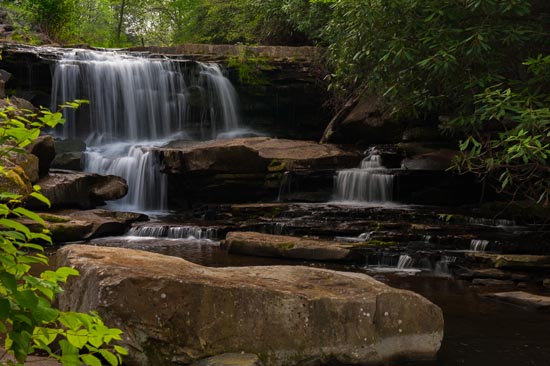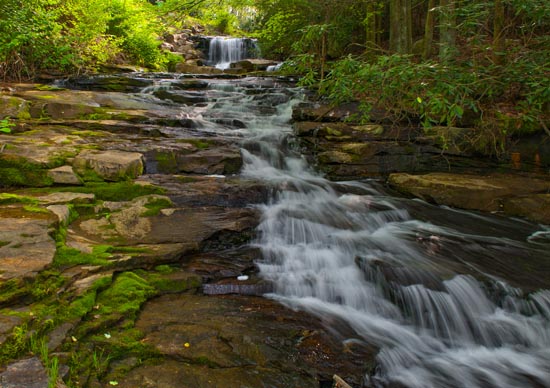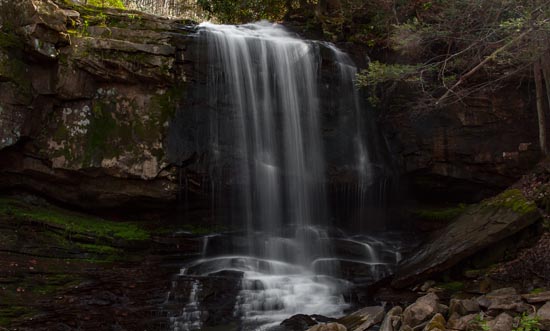 This last one was taken in 2014, before the roadside entry caved in. It's not so easy getting down in there from the road anymore.
There's way more to Marr Branch than this easy to access falls at the top which is roadside. If you are adventurous, start in at the bottom of Marr Branch and work your way up. It requires that you park and walk the railroad tracks along the river and then start heading uphill at Marr Branch. This adventure is not for the weak, lame, or lazy and will require some fortitude. Just stop over on Ed Rehbein's site and have a look at his description of this adventure.