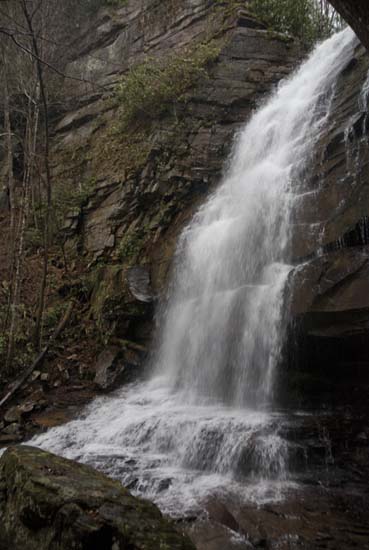 Call owner for permissions and access.
Confluence Resort
304-573-4900
70' Confluence Falls belongs to Confluence Resort and is on Staton Branch. It is private property and is only accessible from the landowner's property or by the railroad grade on the south shore of the Gauley River. You should call the landowner to make arrangements and he will show you the trail. Be forwarned that getting down into the creek from above is a challenge.
You can access by way of the railroad grade by going down Ramsey Branch Rd. From US 60 follow Sunday Rd. to the intersection with Richmond Chapel Rd. and Saturday Rd. Go left on Saturday Rd. and follow to a right on Ramsey Branch Rd. and then down the dirt Woods Ferry Crossing Rd. It will take you down to the Woods Ferry Crossing at the Gauley. The road down to the river indicates Woods Ferry Crossing. You should be aware that this is not a nice road and if you are worried about branches scratching your paint, then don't go down here. Also, leave the family sedan at home. High clearance vehicles required. There be mud, ruts, and holes, rockslides and fallen trees down here and not many places to turn around either. You might consider bringing a saw with you. Also, the tunnel is closed and barricaded. It's about 8.5 miles to the tunnel. Maybe 7 to this falls.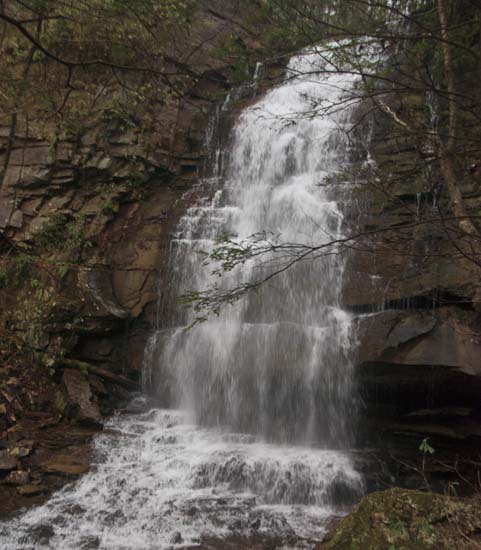 There is no trail to this fall. It's a total bushwhack. Go up the left side of the creek. It's probably .25 miles or more uphill, on loose rocks and bolders and very mushy forest floor, with lots of fallen and rotten trees and moss all over the place. Not many people go up here and you should be prepared with walking sticks and good boots. One of my mates stepped on a clear spot on the hike and went in up to his waist between some rocks. Lots of briars and rhodo. There is also not much room to shoot up at the falls, as the spray is pretty bad in good water and there is a lot of overgrowth on the perimiters. You will want a wide angle lens. I barely fit the falls in with my 18-70mm even in portrait orientation.
Images above are what you see up top or on your way up. Bottom right is the discharge from the culvert on the other side of the rail trail. It is not an easy in and out to get down there. Below is what you see from the road.