38.47771, -80.29998
This fall is not on Elk River, even though GPS would indicate so, but empties into it. I am unable to determine if there is a name to the creek it is on or if it is just a wet weather runoff spot, but it was pretty nice. Might be Blazed Fork. Unfortunately, it was snowing very hard when I was there and this picture does not do justice.
There are significant falls up Leatherwood Creek's left fork. I watched a kayakers video to get this info and they look good. Continue up road from this location to see them.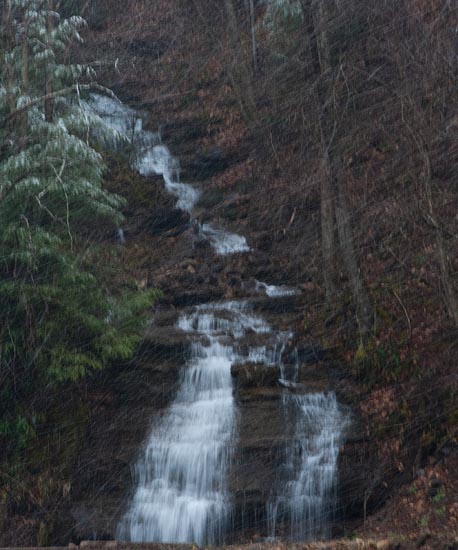 From Webster Springs, drive 4.1 miles to a quick right veer onto CR 26 (Bergoo Rd.). Follow Bergoo Rd. for 6.1 miles and turn right near a convenient/gas stop on Pub Rd. 26/4 and drive up along Elk River. At 3.1 miles both branches of the Letherwood Creek join into the Elk River. Follow the road up the left fork for another 1.5 miles. That's about all you are going to see from the road. Both right and left forks origin in the Monongahela National Forest. I heard there is a trail up the right fork, but have not been there and it is very hard and rocky.
About two miles from the carryout (give or take) the creek splits and the road veers left, one set of falls is up the road to the left, it is roadside. At the split the other route is an ATV trail that takes you to the larger Falls.
Be prepared for an all uphill hike for the right fork lol its not any climbing just a nice trail but all uphill.

So thanks to my new friend
Victoria Lynn Clayton from Bergoo, WV. She sent me a terrific shot of Leatherwood Falls with some people in it for perspective. That's a big waterfall.