From Exit 1 on I-79 go north on Pennsylvania Ave (US 119) to the entrance to Coonskin Park. Turn right on Henry C. Shores Dr. and follow to trail head for Alice Knight trail.
Courtesy of wvexplorer.com
Coonskin Creek falls into "The Grotto" at Coonskin Park, located in Charleston, West Virginia, in Kanawha County, in the Metro Valley Region. Photo by Rick Burgess
When coming into Coonskin follow the road past the lake. There is a road that goes left and up a hill to the golf driving range. Don't go up there but go to the left following the main road. Follow it around past the Tennis Center. You will come to another left at the Alice Knight Trail. You can park here and hike the trails until you find falls, but if you go up hill on the road to the left, which leads to areas #7 thru #20, you will the come to a dirt road on the right, that leads down the hill to the scouts day camp. You'll have to park at the top. Walk down the road, on past the campfire area until you come to the trail. Walk just a short way to the left and you'll see some stairs. The grotto is directly below it.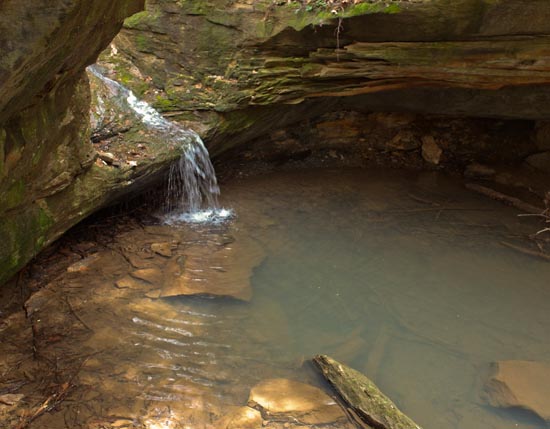 This is on the trail that you would take from the bottom trailhead at Alice Knight parking area.