(39.65693, -79.84421)
Near Cooper's Rock State Forest and Cheat Lake off the end of Mont Chateau Rd. From I-68 at exit 10 and take SR 43N. Take first exit (Exit 1). Turn left off the exit and go ¼ mile or less to a right on Fairchance Rd. which will shortly turn into Cheat Rd. Follow to a 90 curve to the left. Follow along the river to the end. Just before the Cheat Rd. Bridge, bear left onto Mont Chateau Rd. Park in the lot of the WV Geological Survey building. BE ADVISED this lot is posted to close at 5PM daily. Walk along the back of the building at the end of the lot and turn right at the end. You'll see a visitor center. Go along the walk between the building and the hill and out onto the trail. Walk along the river for less than ¼ mile to the confluence with Quarry Run. Formally a WV State Park. As far as I know this is legit public access. Could also access by boat or kayak from the river. You'll see the lower falls easily enough, but there is a nice one up stream on Quarry Creek, but it's not an easy place to get to. You be the judge.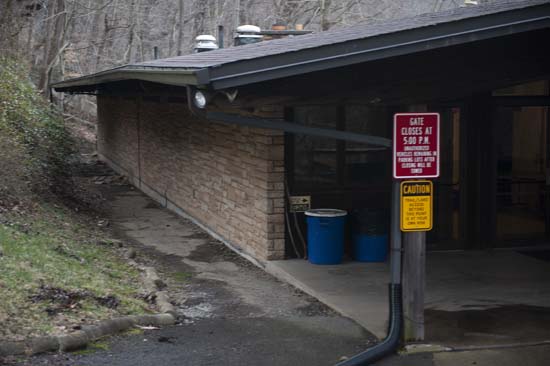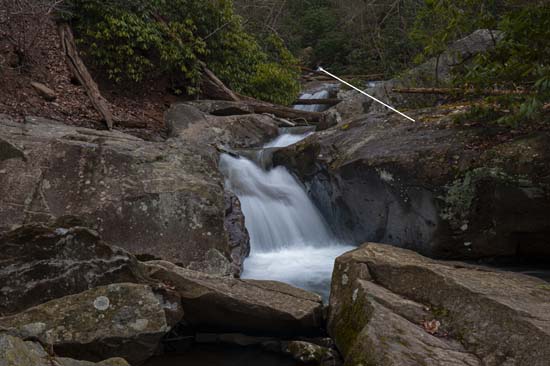 Eric Harshbarger brought this falls to my attention. Here is information from several different hikers on how to get to this falls.
Eric: We parked at the Clay Furnace Trail and started walking the opposite direction of that trail. The trail is on the opposite side of the trailhead to Clay Furnace. It doesn't have a name. I think it was a service road. There was a gate, you keep walking until you get to I 68 and hear water. We walked above the stream until we heard the waterfall. Then we made our way down the bank. Going down the bank was difficult. We marked a tree at the top of the bank.
Michelle Jordan: It's kinda hard to get to. I parked at the Clay Furnace Trailhead Parking Lot. I didn't go down the main Clay Furnace Trail. Instead there's another trail that's on the opposite side of the road loop there. It's about 0.5mi and goes to I-68. I followed it til it ended where Quarry Run crosses the interstate. Then I bush whacked about 0.3 mi downstream and that's where I stumbled across the waterfall
39°39'30.2"N 79°49'28.8"W
39.658389, -79.824667
Eric Harshbarger photo