Sugarcamp Run Falls
37.988333, -80.960893
37°59'18.0"N 80°57'39.2"W
At Babcock State Park on Old Sewell Rd. Old Sewell Road is the paved road across Glade Creek from the park office. Hike to the end of Old Sewell Rd. A total 1.5 mile hike from the mill, it's about one mile from the gate at the end of the pavement, or you can catch the Narrow Guage Trail from several locations and follow it to it's end at Old Sewell Rd. At about 0.5 mile from the bridge crossing at Glade Creek the trail ends. Walk across Old Sewell Rd. to see this waterfall. It's just over 2 miles from the trailhead at Park Forest Rd 802 near the campground. Pick up a park map at the office or check the website.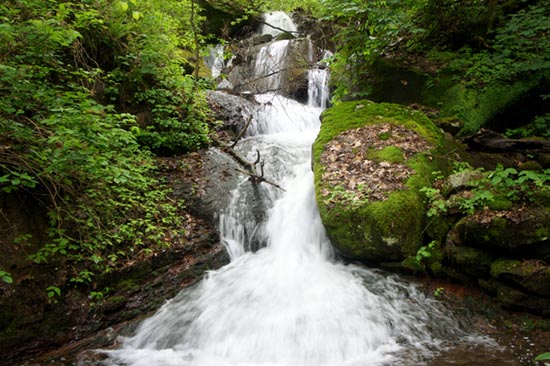 Andrew Wojtanik Photo
Other falls have been reported along Sewell Road, and along the Narrow Guage Trail as well as Upper Manns Creek.