38.478045, -80.652290
38°28'41.0"N 80°39'08.2"W
Several names have been offered for this waterfall. Both names are local family names and mentioned extensively in the book "River on the Rocks – The Birch River Story" by Skip Johnson.
It's on Birch River along Rt. 82...just a short distance after you cross into Webster County from Nicholas County ....approximately 7.4 miles east of US 19 and about 1.8 miles west of the town of Boggs. You'll come to a place where there are breaks in the guardrail and a single wide across the road with a gravel drive. There is no parking here. Pulling off on the side of the road is dangerous and the rest is private property. My suggestion is to have someone drop you off and return to pick you up after you take your photos. You'll need to use your GPS to get here or just keep your eyes open. It's roadside and not too hard to see as you drive by. Access into the creek is easy at either of two breaks in the guardrail.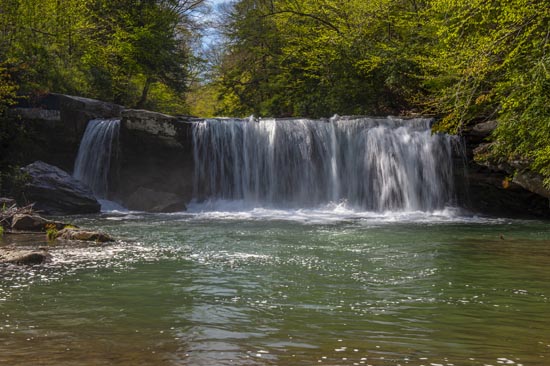 Recently, a member of the West Virginia Waterfalls Facebook Group, James McCoy, volunteered some photos of McCoy Falls which show the old mill which was situated there in the past, as well as a shot of his family reunion party at the falls, which seems to have been an annual tradition. Thank you James for the info and pics.