37.759347, -80.905603
37°45'33.7"N 80°54'20.2"W
Directions to Sandstone Falls Parking area. From I-64 take exit 139. At the end of the exit turn left on WV 20 and drive for about 11 miles into the town of Hinton taking a left on 2nd Ave. and then an immediate right and go across the bridge. On the other side of the bridge turn right. (Madam Creek is just here on your left). Drive for another 8.3 miles after crossing the bridge to the Sanstone parking lot.
Sandstone Falls is a great place to hang out and photograph for awhile. Bring lunch. The boardwalk out to the falls is an easy walk from the parking area and it's easy to get out on the rocks, though, you may get your feet wet in a few places. Be careful out there, this place doesn't look very forgiving if you fall in. If the water is high, you might get in up to your waist in spots, trying to get out on the rocks for the best shots.
When you get off the highway (I-64 Exit 139), take a right to the visitor center. The Sandstone Visitor Center is worth the stop if only to see the floor. It's an amazing stone inlaid floor that shows the entire New River. Something I didn't know until I got there was that the New River has it origins in one of my other favorite waterfalling places, North Carolina. Near Boone, N.C. to be more specific.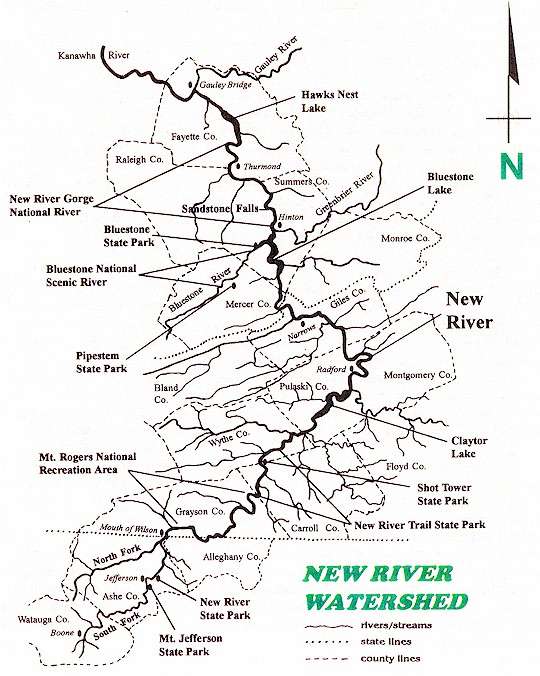 Sandstone Falls Overlook - After you leave the visitor center, you can see all of Sandstone Falls at this scenic overlook, 600 feet above the river. This short, gravel walkway descends briefly from the parking lot to the viewpoint. The total distance is only 1/10 mile.
This roadside pull-off is on WV Route 20, three miles south of I-64 exit 139 and the Sandstone Visitor Center, or 8.5 miles north of Hinton.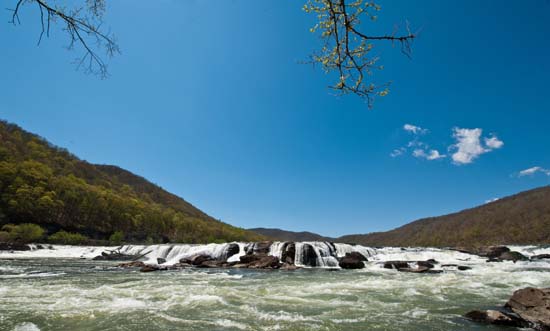 There's more to Sanstone than a river wide drop. There are a lot of creeks that empty into the river on the way to Sandstone Falls. There are also some pretty impressive drainage spots on the way to Sandstone Falls. On a rainy day, after crossing the bridge from Hinton, there will be a number of falls right at roadside. I haven't marked them because the only appear during hard rains, but you won't miss them if you are there at the right time. They are impressive.
Two favorites and very pretty walks are on Fall Branch and Big Branch. Each one has at least five waterfalls. There is also the Sandstone Visitors Center. I found this place to be singularly unique and the people working there were outstanding to speak with. If you don't stop for any other reason, just stop in to check out the floor. Yes, I said the floor. The entire floor is a map of the New River, which, believe it or not, starts in one of my other favorite places, Boone, North Carolina. Yes, it's one of the few rivers that flow, south to north. The floor is worth the stop, just to see how the craftsmen inlaid brass, terrazo, and tile to cover the entire floor of the visitors center with this map. Pretty cool. Anyway, I figure you might need a restroom or a brochure.
So, stop in, see the floor, use the rest room and speak to Mark Bollinger and Richard Atelier. Two very knowledgeable guys who will tell you all you need to know about the area. There's history, geology, and water to know about here. Stop in and say Hi.
Before you head on down to Sandstone Falls, you may want to take a short side trip over to Claypool Falls. This place is very nice. There's a lot to shoot here. Just be cool how you park and try not to trespass, as it's not public/federal land. You'll see the falls on the way up, turn around, find a place to park and then do your thing. Lovely spot.
Once at Sandstone, make sure you go all the way out on the board walk. Once at the end, you can start rockhopping out to the falls. There is no trail and there are many routes to get all the way out. If the water is high, you will get at bit wet. If it's really high, well, use your own judgement. We don't want anyone hurt, but being out on the rocks in front of the falls is very cool, and a great place to shoot.
I would figure on spending a good part of the day here.
On your way out, go back the way you came in, or, if you want to take the road less traveled, hang a right, go a short ways (1/4 mile), and turn left on CR 26, Irish Mountain Road. There is an old Catholic Church about a third the way on this route. It's open. You can go in and photo.
The Little Catholic Church on Irish Mountain - Saint Colman's Roman Catholic Church and Cemetery rests atop Sullivan's Knob on Irish Mountain in Raleigh County, West Virginia. Also called the "Little Catholic Church on Irish Mountain," this was the first Roman Catholic Church in Raleigh County. Its building began in 1877, was completed in 1878, and the church and cemetery still stand on Irish Mountain today. St. Colman's Church and Cemetery is an important historical landmark for Raleigh County, existing as a reminder of the prominent Irish immigrant community that settled on Irish Mountain.
Anyway, it's your typical, winding W.V. dirt road. A couple rough spots, but you can take the family car up here. It ends at Cr 27. Take a right and very shortly, you will be at I-64. Jump on westbound toward Beckley and before long (Exit 129), you will be at Grandview. Get off, drive north (turn right) and go on up to the Grandview Overlook and have a look at a very nice vista.
You might also wish to see some more falls, and if that's the case, then head back to Hinton and then south on WV 20. Follow it 11 miles to Pipestem Park. It's a roadside spot with two waterfalls. No hiking involved, but you will have to do a little bit of rock climbing and scrambling to get GOOD photos.
Indian Branch Falls and Rhoda Ann Memorial Church Falls are nearby as well.
Below are some of the roadside falls that I mentioned above. Only seen during rainy weather on New River Rd. (CR 26).