37.82360, -80.90610
37°49'25.0"N 80°54'22.0"W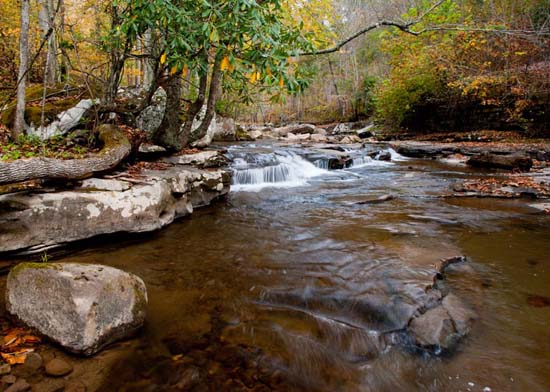 I really like Claypool Falls (also called Meadow Creek Falls). It's much more than just one waterfall. You really need to see the creek too. Meadow Creek is gorgeous. It was fairly easy to get down to the falls, easy to get into the creek, which is definitely worth shooting, and easy to cross the creek above the main falls. I was there at low flow, but I suspect a person could easily cross the creek at a higher level, though getting wet will probably be necessary. There is a rail track on one side of the creek and the road (Claypool Rd.) on the other side. Meadow Creek is very pretty and I didn't detect too much garbage or natural debris in the creek. Very photogenic. Just respect the private property when there. Have fun.
Take I-64 to the Sandstone Visitor Center (Exit 139). Turn right on Meadow Creek Rd. (CR 7) and follow to the town of Meadow Creek. At a sharp left hand bend in the road, turn right on Claypool Rd. Follow Claypool Rd. for about 1.5 miles and look for the falls just off the side of the road on your right.
The falls is right across from a residence that has no parking and no trespassing signs, so drive up the road, turn around, come back and park where there is room to pull off on the side of the road. Also, if you are going to shoot the upper part of the creek, above the main falls, and I recommend it, you should cross the creek upstream where it will be much easier. You can walk down the creek from where you parked, on the road side of the creek, to the top of the main falls, and then go down into the creek just at the falls. You will see the access as it is obvious, but be careful. It's not the easiest I've ever done and you could easily screw up here. A rope might be in order here.