37.857184, -81.479076
One of the more handsome and less visited falls, Peachtree Falls is a real gem of a place. Not very well known and off the beaten path for tourists. Personally, I like the drive from Huntington down into Beckley area. Get off I-64 at exit 11 and head south of SR 10. It turns into SR 3 at West Hamlin, approximately 19 miles from the interstate. From there follow SR 3 for about 78 more miles to 6639 Coal River Rd, Dry Creek, WV 25062(37.866619, -81.469700), where you will turn right across a bridge and then an immediate right on Perry Jarrel-Peach Tree Rd. Follow the road for about a mile to a parking area and trailhead.
From Beckley, take exit 44 off of I-64 and go west on SR 3 for about 24 miles. Pay attention at about the twelve mile mark in Glen Daniel, where you have to make a right turn to follow SR 3 twelve more miles to Dry Creek. About 0.6 miles beyond, turn left at 6639 Coal River Rd, Dry Creek, WV 25062 (37.866619, -81.469700), crossing the Marsh Fork/Big Coal River, then turn right. Follow the road for about a mile to a parking area and trailhead.
About the parking and trailhead. You'll get to a place where the road looks iffy, and it is. I don't recommend going beyond this point and I don't think the locals want you to. Walk from here. It's not far.
There's a single story house on the creek side of the road and another house up on the hill across the street and there's an area to park with room for about two cars. I stopped and knocked on the lower house and spoke to the old guy that lives there. He's a vet and a very colorful fellow to speak with. He likes to shoot coyotes and will probably want to show you his skins. Anyway, it would be hospitable to say hi and ask permission to park just so everyone feels comfy, as this is private property.
From here, walk up the road and follow the creek on your right. You will eventually see the falls. It's not more than a 1/4 mile, if that. The scramble down into the creek might be a bit tricky, but it's doable. Bring a rope if you can, or there may be one there, but don't count on it. You can make it without one, but it will be much easier and safer with one, especially with camera gear.
You might investigate getting here by means of Peachtree Rd. (CR10) as well, but be advised, this is residential and private property.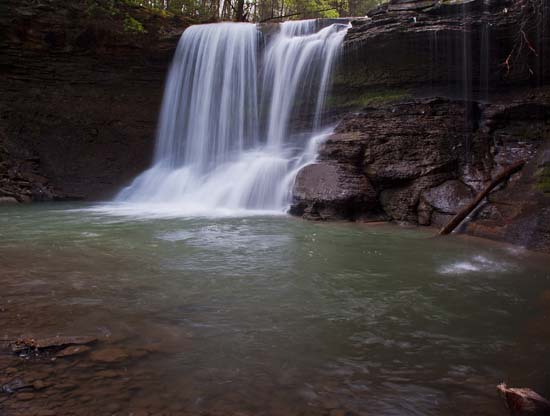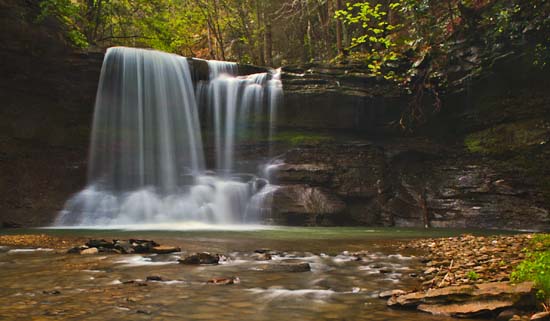 June 13, 2011 - From the Appalachian Voice, an article titled "Waterfalls of Appalachia" spoke of Peachtree falls and mentioned several other falls on Peachtree Creek which I have not seen. Apparently, one is a swimming hole as well.
"West Virginia — Peach Tree Falls
By Benji Burrell
Right at the spot where Peach Tree Creek empties into the Marsh Fork River, there is—for adventurous explorers—a 30-foot waterfall waiting to be discovered.
Humming alongside the town of Naoma, W.Va., Peach Tree Creek offers a series of waterfalls and deep pools to play in the river. Downstream from the 30-foot fall, you will find a second set of falls with neat ledges and smaller channels of water where you can float around and bathe in the sun. The smaller ledges are accompanied by a rope swing, which awaits the more daring waterbugs.
Located in the heart of the coalfields, Peach Tree Falls, in all its modesty, is a cool spot in the middle of a place that has not been explored much by people outside of the local area. Peach Tree Falls is living proof that beauty exists even among a seemingly broken landscape.
From Glen Daniel, follow WV Route 3 twelve miles to Dry Creek. About 0.6 miles beyond, turn left, crossing the Marsh Fork River", (it's Big Coal River on the map) "then turn right. Follow the fork for about a mile to a parking area and trailhead.
To get to the second set of falls, rather than turning that last left, continue 1.6 miles into town. Once you pass through town, turn left on Peach Tree Road and park immediately on the right, walk down the river from there."