39°28'45.5"N 80°52'48.2"W
39.479311, -80.880045
My recent visit to the Jug was uneventful, as there was nothing but stagnant water all about and nothing spilling over the dam. Actually, I'm not sure what the obstruction in the creek can be rightfully called. I was told by one local it was a roadway, but Wikipedia (below) describes it differently. The bar is closed. Not really much to do here. Just a curiosity untill the water comes along, then a dam with a spill over fall.
"The Jug — formerly known as the Jug Handle — is a jug-shaped island formed by a horseshoe bend on Middle Island Creek near Middlebourne in Tyler County, West Virginia, USA. It is maintained by the state of West Virginia as The Jug Wildlife Management Area (2,848 acres, including the Jug and much land south of it). There is also a bar called "The Jug" which is situated right at the waterfall, which is not really a waterfall. They built a dam there years ago to divert water to a mill. When the creek gets full, it spills over, thus, a waterfall."
Main street in Middlebourne turns into SR 18. From the bend in the road at the south end of town, follow it for approximately 1.7 miles till you come to The Jug. From the intersection of US 50 and SR 18, follow 18 north toward Middlebourne for 24.7 miles. Wikipedia.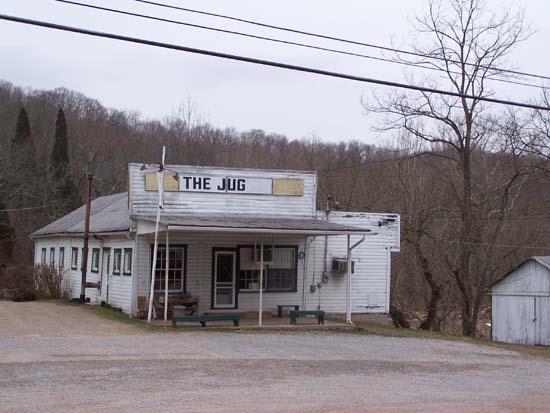 This is what The Jug looks like with no water.