38°15'05.8"N 80°39'46.3"W
38.251613, -80.662851
From Nettie, drive east on WV 20 for 1.6 miles and go left onto Panther Creek Rd.
The first time I visited this place I was disappointed. I couldn't get across Panther Creek to get a good shot. On another visit I had noticed roads on the other side by looking at Google maps and decided to try and find them. There is a very sketchy looking bridge across Panther Creek about a mile or more further down the road from where I shot this one. It's where the two factory looking buildings are situated across the creek. Very obvious. Go across the bridge and turn right and follow along the creek. You'll come to an open area just after crossing the two drainage ditches.
The waterfall is really pretty tall. Might even be 100-200 feet to the top but a lot of it cannot be seen clearly. It's more like a slide at the top but there's a nice fall just at the parking area. Easy to shoot there. Also this appears to be Adkins Lick.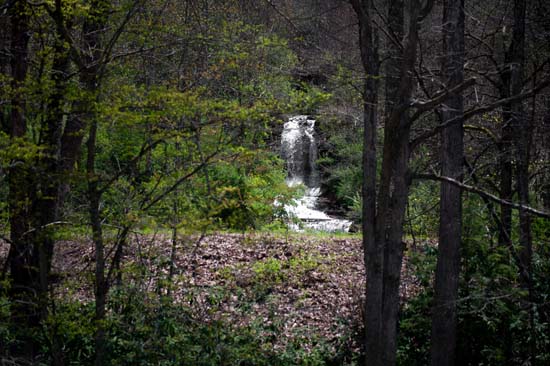 OK, the thing you need to know about this image is that is was shot from the road, through the trees, hand held. In the image, the foregroud disguises a creek. It's a raging creek at the time I shot this. Panther Creek. Coming off the hill in the background is the waterfall, which appears to empty into another creek, or a split of Panther. The point is, you have to cross two creeks to get to the base of this falls.
Here's the image from the second trip shot from the parking area across the creek. This appears to be Adkins Lick on the map and empties into Panther Creek.