38.034960, -81.006321
38°02'05.9"N 81°00'22.8"W
Find the Winona Trailhead: From US-19, turn onto Lansing-Edmond Road (CR-5) just north of the Canyon Rim Visitor Center. Follow six miles to Winona. Turn right onto Keeney's Creek Road (CR-85/2). The Keeney's Creek Rail Trail begins at the dirt road junction just after the second bridge. Limited roadside parking is available. This trail takes you under the Nuttallburg conveyor.
Nuttalburg Trailhead: Follow directions outlined for the Winona Trailhead, but proceed another 1.5 miles to the marked trailhead on the right. Limited roadside parking is available.
Note: If you have seen the photos on the website, or any other photos prior to 2016, that's not what Keeney's looks like anymore. It's still beautiful in places, but it's pretty torn up. I don't know how much more work they intend to do, but the road is at least passable all the way to Nuttallburg.
There are some nice big falls on Keeney's Creek, but they are not the easiest to get at even though they are mostly roadside. The creek side walls are very deep and steep in the lower sections.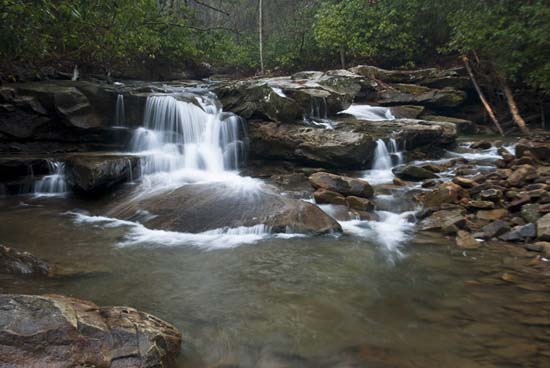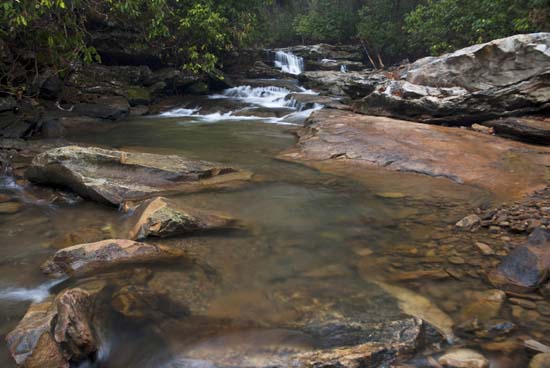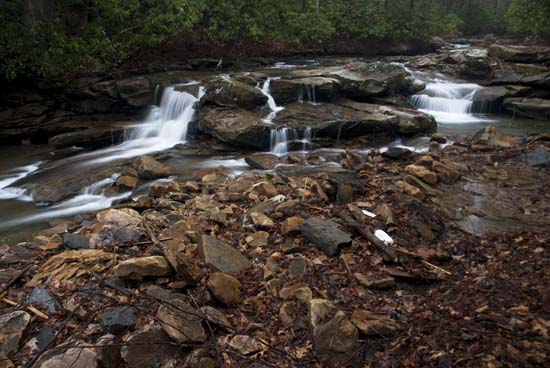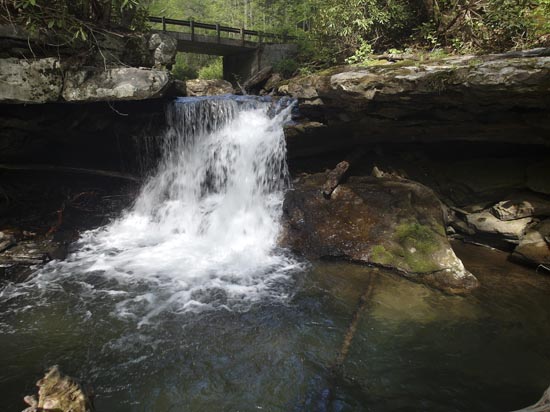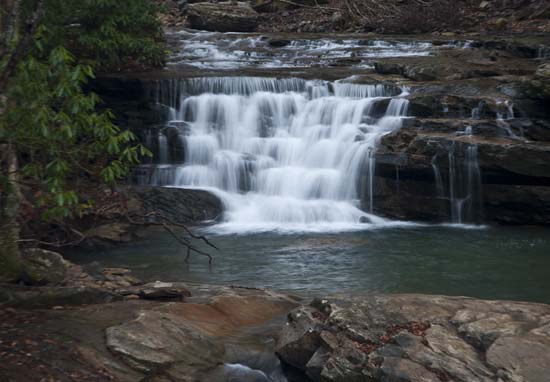 This waterfall is very difficult to get to at creek level. I have been eyeing it for years and been afraid that I would be injured getting in a place to photograph it properly, and, as usual, the photo doesn't do it justice. Also disturbed that I was not able to do any house keeping, but then mother nature doesn't allow. None of the falls on Keeney Creek have names as far as I know, but I ran across a comment about the fact that this creek used to be kayaked and they called this "drop" Accept Reality, so I'm going to call it Reality, which I think fits. Here's the quote from Dan Fowler on the West Virginia Waterfalls Group from Facebook. "This one used to be kayaked at high flows. I think this drop was called "Accept Reality".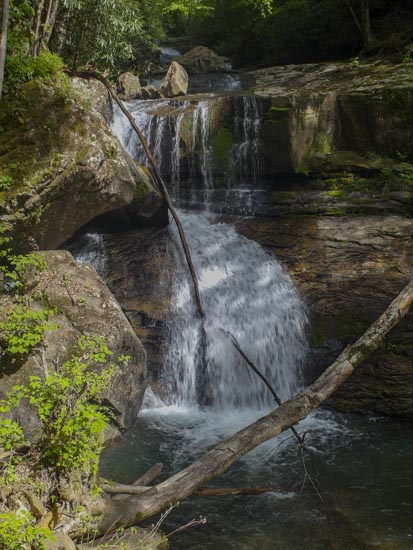 "This is the largest waterfall on Keeney's Creek - the kayakers that are crazy enough to run this creek at flood stage call this drop "Accept Reality"1
1. Randall Sangar on Flickr 2012.